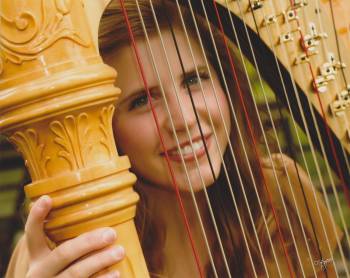 What do you get when you cross two musical parents, an eager child, and 36 strings? Megan, the harpist.
Megan Kartchner began piano studies at age six with her mother and added private harp lessons at age eight with Louise Pratt and later Julie Keyes. Recitals, competitions, and music festivals (not to mention playing trombone in the jazz band) soon followed. As Megan grew in ability, she began playing in orchestras and for special events, private parties, and weddings around the Salt Lake City area. This led her to pursue a degree in Harp Performance from the University of Arizona.
As a student, Megan studied privately with Dr. Carrol McLaughlin, a distinguished professor of harp, and additionally received instruction from some of the world's premier harpists. She was a member of the internationally acclaimed HarpFusion, the largest traveling harp ensemble. Audiences in China, Brazil, Austria, Belgium, Holland, and Liechtenstein were captivated by Megan's ensemble and solo performances. See photos of her experiences at this link.
Megan has enjoyed transitioning from the center stage spotlight to a chair at the side of her students' harps teaching note reading, proper hand position, and musicality. She currently lives in Burns, Oregon, is happily married and a mother to three wonderful sons.  For fun she enjoys children's literature, cooking, Cinderella, hiking, and eating as much chocolate chip cookie dough ice cream as she can.