Harp music adds a beautiful touch to special events and weddings, indoor or outdoor. Megan can play for hours at a time and has a varied repertoire including classical, popular, religious, Christmas, and jazz selections. She also accepts musical requests to cater to your event and is willing to travel reasonable distances.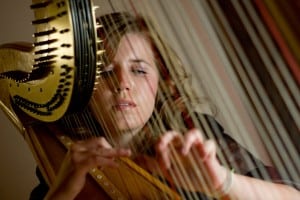 Contact Megan to coordinate the details of your next event and for pricing information. Basic packages start at $125.
Examples of where Megan has performed: hospitals, parks, churches, art galleries, schools, museums, conference centers, and homes.
Audio samples of Megan's music.
What Megan's clients say about her performances:
The only thing that would have prevented us from having a harpist play for us at our Christmas parties would be too high a cost. We found in Megan a person with a wonderful personality who made beautiful music for our guests! Her grace and charm, talent, and willingness to be flexible to our requests were the perfect combination with the lovely music!

We would recommend Megan to play at any event, home or location!

– Steve & Kathy K.
I wanted our church Christmas party to be the very best it could be. I was willing to pay for Megan's wonderful harp music which, by the way, I thought was very reasonable.

I found Megan to be very congenial, on time, and willing to go the extra mile to make this event very special. I know she prepared Celtic music in order to make sure the theme was covered. Her harp playing was delightful and exactly the mood I wanted to create for our guests and attendees during the dinner portion of the evening.

Absolutely I would recommend Megan for all of the reasons stated above and would definitely rehire her.

– Katie D.